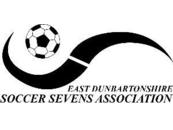 East Dunbartonshire Soccer Sevens Assoc.
Coaches coach, adults support, fair play for all. Help the kids develop without aggressive adult behaviour. That is the way we want our football here!
Welcome to your EDSSA website
This site contains information about the East Dunbartonshire Soccers Sevens Association. Check back regularly for updates to news and fixtures.
Never miss an update
Follow the league to get the latest news and results straight to your email